What Is Mobdro? : How To Use Mobdro The Right Way – There are tons of video streaming applications for all platforms. If you search for "best video streaming apps" you will get the top results for the most popular ones like Amazon Prime Video, HBO Go and Netflix. You must have a subscription to these providers to fully enjoy their services.
If you enjoy watching movies, TV series and other multimedia content but do not want to pay for a monthly subscription, then should check out the Mobdro app for android.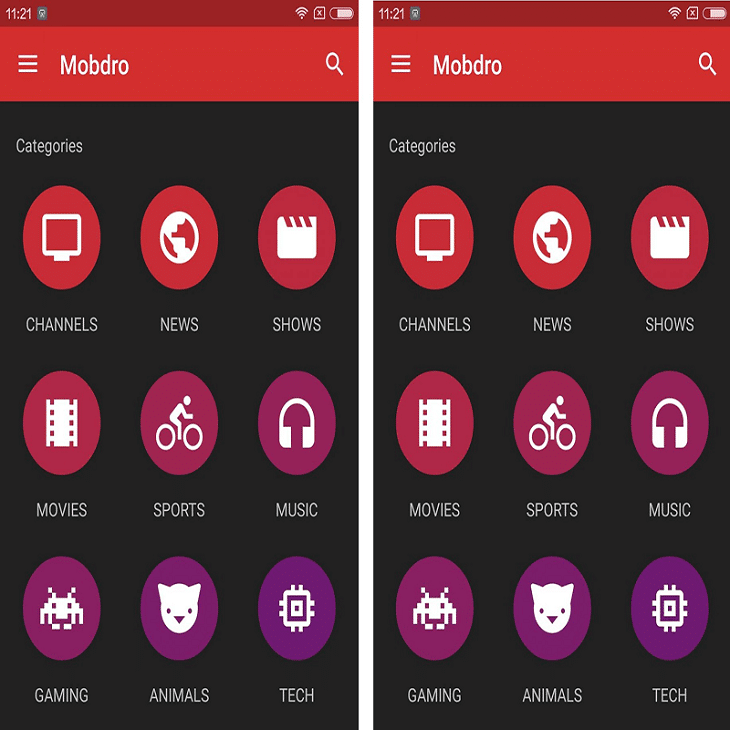 See Also – Mobdro For Smart TV : Complete Guide to Downloading and Installing Mobdro
What is Mobdro?
Mobdro is a tool that constantly looks for free video streams available on the web and makes them accessible on your mobile device.
Defining Mobdro may be as short and simple as the above but that doesn't mean it's all the app can do. Once installed on your device, the Mobdro app does a lot more than just find and stream videos on your gadget.
In fact, Mobdro is one of the best streaming app for Android. Below are some of the benefits of using the Mobdro app on your Android device.
Intuitive Menu – Developers made the Mobdro interface very easy to use even a child can use it.
Tons of Content – Mobdro's ability to find hundreds of free streaming videos online provides you with unlimited entertainment.
Consistent Stream – Video streams using the Mobdro app are very stable
You must install Mobdro first before you can use it. You can follow the simple guide below to download and install Mobdro on your device.
Download And Install Mobdro On Your Android Gadget
Developers specifically had the Android operating system in mind when they made Mobdro. Although Mobdro is for Android, it is not available in the Google PlayStore. Users can directly install Mobdro using the procedure below or sideload the Mobdro apk file using a computer to install it on your gadget. To get you started with the app, do the steps below to get Mobdro on your Android device(s).
Step 1. Visit this Page of Mobdro.ca website.
Step 2. Follow the instruction mentioned in the page.
Step 3. Tap on the downloaded file to start the Mobdro app installation.
Step 4. You can open the app after installation to start watching.
What Is Mobdro? : How To Use Mobdro The Right Way
Getting Mobdro on your device is easy enough. You don't need to be a rocket scientist to use it either. To help you get the most out of the app, you can read our "user's guide" below.
Navigating The Interface
As mentioned above, the Mobdro app's user interface is very intuitive. Videos and other contents are grouped using "rounded" icons with labels so users can easily choose which one to tap. Categories include the following :
Channels – list popular TV channels like ABC, CBS, HGTV, History Channel USA, etc…
News – includes CNBC News, CNN International, NBC News, Fox News and others
Shows – Popular TV shows/series like Family Guy, The Big Bang Theory, The Simpsons, etc…
Movies – All genres of movies like action, comedy, horror, etc…
Sports – Sport channels like ESPN, ESPN 2, Racing.com, etc…
Music – Music oriented shows like MTV and VH1 among others
Gaming – For those who enjoy games like Counter Strike, World of Warcraft, etc…
Animals – Shows everything about animals and live cams of beaches, oceans, reefs, etc…
Tech – All things tech related like NASA TV, NASA HD, live feed from the International Space Station, etc…
Podcast – Includes podcast of shows like "The Ellen Show", "TedTalks" and other popular podcasts
Spiritual – Anything and everything spiritual related
Others – Those that do not fit any specific category (miscellaneous)
Choose a "Category" for the content you want to watch and tap on the icon. After selecting a category, you can then proceed to choose the the episode/movie/stream that are available. Tapping on the content will immediately open the media and you can start watching. Its that simple.
The only downside to this is you can only watch what is currently being streamed. You can't choose which episode to watch so you must be aware of the schedule of your favorite show when its on.
Search For Contents
If you want to search for live streams or shows, you can use the "Search" function in the upper right hand corner of the mobdro interface. Tap on the "Magnifying Glass" and type in the stream/show you are looking for.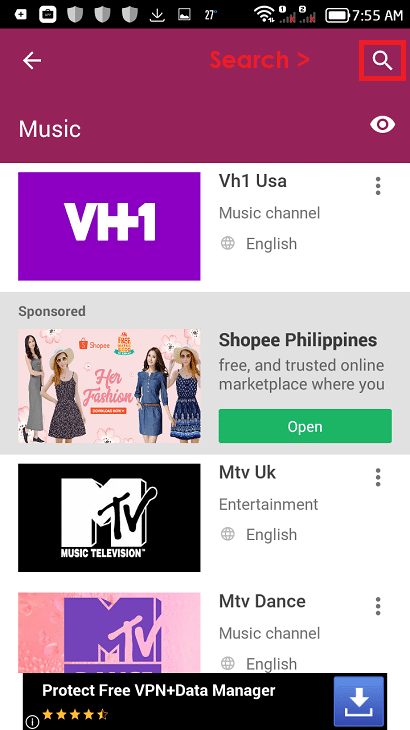 Mobdro Setup
Tapping on the stacked three horizontal lines in the upper left hand corner will show you the screen below. On this screen you can see your "Favorites" and other activities on Mobdro.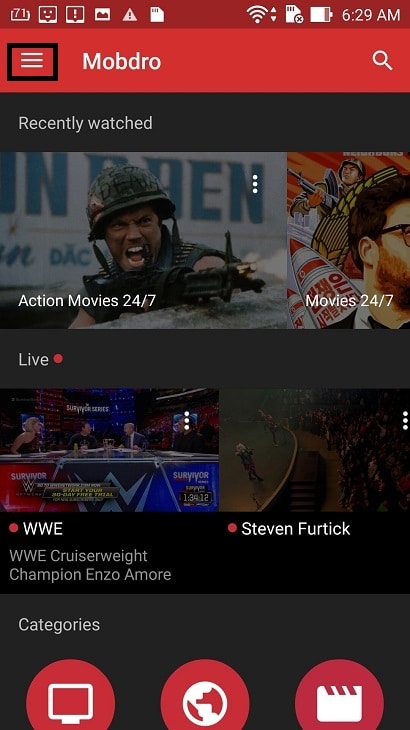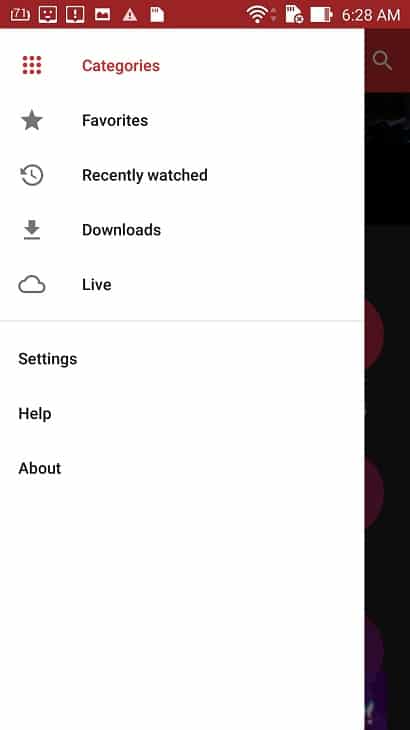 You can quickly set up your "Favorites" by going to the the video you want to add to your "Favorites" the tap on the three dots to open the options menu and choose "Favorite".
There are other options aside from being able to add the video to your favorites. You can also "Share", "Download", or "Play" the video you choose.
Selecting "Share" will enable you to choose an action/app to share the video. For instance, you can share it using your email, Facebook or Messenger, or any other application.
The "Download" option allows you to save the video to your device's local storage while "Play" will quickly start video streaming.
Tapping on "Live" will show you a list of all the live streaming videos currently "on air".
You can setup Mobdro using the "Settings" options. Tap on "Settings" and you get to control the following:
Player – You can enable hardware decoding (Use hardware accelerated hardware video decoding)
Updates – Enable app updates using mobile network data connection (not recommended). This may cost you money.
Content – Control what streams are shown in your "Language". Sort streams alphabetically and set Parental Filter for safe streaming.
History – You can clear your search history here and set the app to never store your search history.
Help will take you to the "Help" screen where you can get the basic answers/instructions on what is Mobdro, how to get Mobdro and other questions. There is also a "Troubleshooting" guide included for the most common problems users usually encounter when using Mobdro for the first time. This section also shows "Permission & Data" to let users know what the app does with the personal user's data they collect and other "Legal" stuffs.
About  displays the Mobdro version installed on your device. Users can also check for new updates in this section. There is also a link to the "Help" section on this screen. This section also has a list of changes and known issues in the installed version. "Open source licenses" lists all the software used by Mobdro and the terms and conditions of use contained in the EULA (End-User License Agreement) if you decide to use Mobdro app.
Want More Mobdro Features?
There are two Mobdro versions : the Freemium and the Premium versions. The Mobdro Freemium version contains ads and lots of them. You will see these ads on the main user interface and everywhere else (like sponsored links and videos). If you don't mind some distractions while watching videos then this Freemium version is meant for you. However, if you want to get rid of the apps then you should get the Mobdro Premium version.
NOTE : As of the writing, Mobdro has been updated to version 2.1.72 (Freemium) and there is no link to "Go Premium". Developers are busy answering users' questions, fixing bugs, server maintenance and updating the app.
Related – How To Install Mobdro Windows For The PC: Quick And Easy Method
Mobdro is a great way to watch live streaming videos, sports, TV series and more on your devices. The app may not be perfect (yet) but it offers the best viewing experience for free.
Please share this post with your friends so they can install Mobdro. Also leave a comment below to let us know what you think.