How to Download, Install and Watch Mobdro on Chromecast – The latest Mobdro release supports Chromecast. This is similar to what we did on Roku.
It's more interesting and exciting to watch movies and TV series with your loved ones on a big screen. The Mobdro app allows you to do this using your Chromecast device connected to your TV.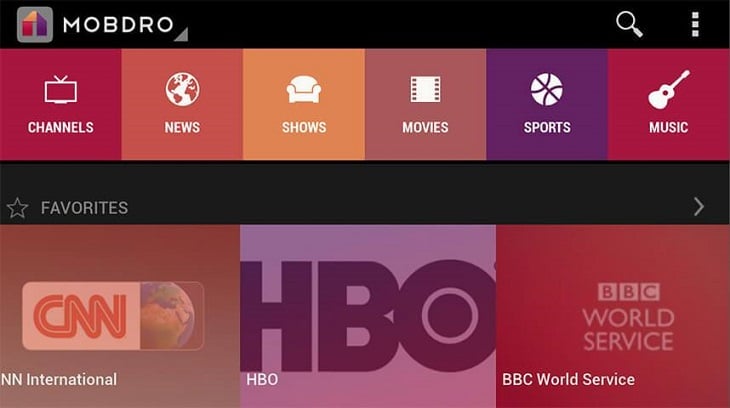 See also – How To Install Mobdro For Roku The Best Way
Although Mobdro was specifically developed for the Android OS, it can also be installed on other devices like Android TV boxes, Chromecast, Kodi, Laptops/PCs, Macs and Smart TVs.
Mobdro is a great app that constantly look for streaming videos from internet. It scours the web for streaming videos from all over the world in all languages. Mobdro app has been described as –
an indexation tool that constantly look for video streams available from the web and make them available on your devices
Aside from this, the Mobdro app can do a lot more once you have it installed on your gadget. For this article, I am going to show you how to watch movies and other contents using the Mobdro app and Chromecast.
How to Download, Install and Watch Mobdro on Chromecast

Related – Where to Download Mobdro for Android, PC, Kodi, iOS, Chromecast & Mac
The first thing you'll need for this work is a device with the Mobdro app already installed on it. It can be an Android smartphone or tablet, a laptop/PC or even a Mac. If you have a device and you want to install Mobdro on it, you can out our guide to easily get the app up and running on your gadget.
Next, of course, is your Chromecast which you have to connect to your TV. This guide shows you how easy it is to connect you Chromecast to your TV.
Before, the streaming option was only available on the "Premium" version of the app. Now, Mobdro developers has made all premium options free to everyone!
Follow the steps below to start streaming Mobdro on Chromecast.
Step 1. Download and install the Google Cast app (also known as Chromecast app) on your device.
Step 2. Launch the Mobdro app of your gadget.
Step 3. Connect your Chromecast device to your TV. Make sure that it is powered on.
Step 4. Make sure that both (your device with Mobdro installed and your Chromecast device) are connected to same Wi-Fi network.
Step 5. The Mobdro app will detect your Chromecast device and show the "Cast" icon beside the "Search" icon in the "Notification Bar" of the app.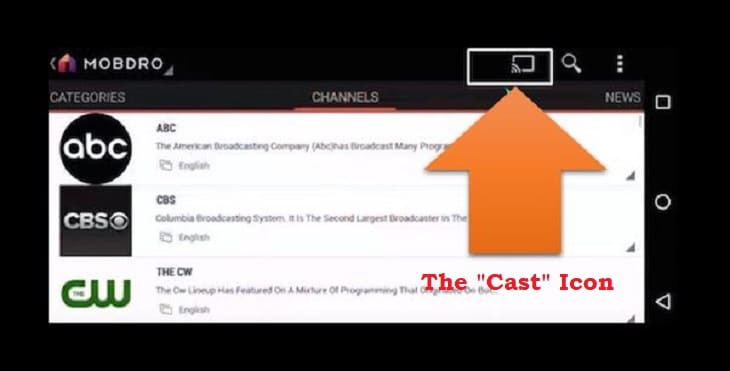 Step 6. Tap on the "Cast" icon and confirm that you want to stream the content on your device to your TV via Chromecast.
Step 7. Open any content on your device using the Mobdro app and watch it on your TV using Chromecast!
What could be easier than that? You have just downloaded and installed Mobdro on Chromecast using our easy to follow guide above. Start watching your favorite video streams on your TV's bigger screen now!
You can watch the video below to see how streaming works using Mobdro and Chromecast.
https://www.youtube.com/watch?v=4QSsjG_symc
Advantages of Using Mobdro On Chromecast
There are tons of benefits for using Mobdro on Chromecast. Check out the list below for some of them
Watch your favorite movie or TV series on a bigger screen using the Mobdro app via Chromecast.
Watching video streams on a bigger screen is more exciting using Chromecast.
Share your content with your loved ones making the experience more meaningful.
Mobdro streams are free therefore you don't have to pay for anything.
Surprise yourself with the ever-changing Mobdro content.
Channels and content are being added every time so you will have an unending source of entertainment and education.
Mobdro finds streams in every language so there is always a stream for everyone.
These are just some of the myriad advantages of Mobdro on Chromecast. If you found this post informative and useful please share it with your family and friends.
Want to connect with us? Kindly leave a comment below if you encounter any problem in downloading, installing or watching Mobdro on Chromecast. Maybe you just want to share your experience using Mobdro – that would also be great and we want to hear what you have to say!