How To Fix Mobdro Not Working On Bluestacks : Easy Methods – By now, you may already have the Mobdro app installed on your computer. To run Mobdro on your computer you need Bluestacks or other Android emulators. As we all know, Mobdro was specifically developed for the Android operating system.
For those of you still wondering what this app does, Mobdro is –
an Android-only tool that constantly looks for free video streams available on the web and makes them accessible on your mobile device. The Mobdro app allows viewing of documentaries, movies, live sports, TV series and other contents from the web on your devices.
Mobdro On Bluestacks
The best way of installing Mobdro on your computer or Mac is by using the most popular Android emulator, Bluestacks. You can download the Bluestacks emulator for the PC from this link, or for the Mac from this link.
Related – How To Install Mobdro Windows For The PC: Quick And Easy Method
We already have a tutorial on how to install Mobdro on your computer or other devices using Bluestacks emulator. Just follow the steps provided in that guide to get Bluestacks installed on your gadgets.
Once you get Bluestacks installed and running on your device, you can then follow this guide to install the Mobdro app on Bluestacks.
Mobdro is a great app to watch free streaming content from the internet. Mobdro has the following categories for everyone to enjoy:
Channels – includes popular TV channels which shows well-known series.
News – news channels from all over the world.
Shows – has long running TV series like The Big Bang Theory and The Walking Dead
Movies – show the latest movies in all genres
Sports – anything and everything about sports like basketball, football, racing and others
Music – for the music enthusiast and fans
Gaming – streams of popular live online games
Animals – for those who enjoy watching animals and their antics
Tech – has technology related contents for the tech geeks
Spiritual – streams of all things related to religion and spirituality
Others – those that do not fit in any of the categories mentioned
More are being added all the time which means more entertainment for every Mobdro user. There is a category for everyone who enjoy watching streaming contents from the internet. Best of all, users get access to these online streaming content for free using the Mobdro app.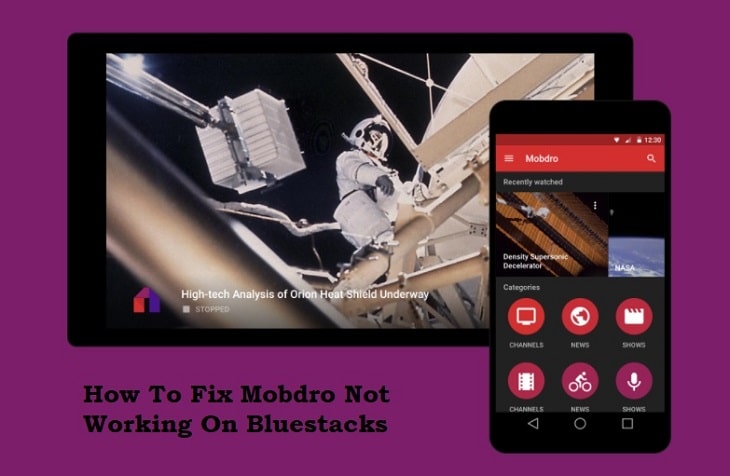 See Also – Fix for ALL Mobdro Errors with Kodi
Mobdro is very easy to install and use but sometimes, users may have some problems with the Mobdro app. You may encounter some errors like the following when using Mobdro on Bluestacks :
Mobdro Not Working/No Connection
Mobdro No Connection Available
Please Check Your Connection
Network Error
Connection Problem
Mobdro Server Not Available
Error Check The Log
Parse Error
Slow or Laggy Streams
The most common cause of Mobdro not working on Bluestacks is connection/network error. You may get "No results found. You may try choosing another language" error when you click on "Channels" while using Mobdro. Compatibility issues with the Mobdro app and Bluestacks may also be a reason why the former won't work with the latter.
Just follow the steps below to fix this error and other errors you  may encounter while using Mobdro on Bluestacks.
How To Fix Mobdro Not Working On Bluestacks : Easy Methods
As mentioned above, connection/network problem and compatibility issues are the usual causes of Mobdro not working on Bluestacks. The solutions to this problem are easy. You can do them by yourself and you won't have to pay anyone to do it for you. Do the steps below to fix this problem.
Check Your Internet Connection
Step 1. Visit any website using a browser on your computer. If you can access/view the site, this means you have internet connectivity. Check your internet connection speed also (click here) to determine if it is fast enough for Mobdro's minimum requirement of  2 megabytes per second (mbps) for standard definition streams/videos.
Step 2. Check your network setting if you are using Google Public DNS. You can configure your network setting to use Google Public DNS by using this guide.
Step 3. After doing the steps above, launch the Mobdro app using Bluestacks to see if it is working now.
By doing the procedure above, you should now have Mobdro working with Bluestacks. If Mobdro is still not working, do the procedure below.
Check Mobdro Compatibility
Step 1. Check the version of Bluestacks Android installed by opening a browser in the emulator and visiting this site. Mobdro is compatible with Android version 4.1 and above.
Step 2. Check Mobdro version installed on Bluestacks. The latest version of Mobdro is 2.0.62. Do this by clicking on the three horizontal bars in the upper left hand corner of the Mobdro app then click on "About". The first item listed is the Mobdro version installed.
Step 3. If you find an older version of Mobdro installed, you can tap "Updates" to download and install the latest Mobdro version.
Step 4. After updating to the latest version of Mobdro, launch the app and see if the problem has gone away.
You can watch the video below to see the correct way of installing Mobdro on Bluestacks to avoid any errors.
You have just learned how to fix Mobdro not working on Bluestacks. Please share this post with your friends if you found it useful. We would also like to know your thoughts so kindly leave a comment below.